More than likely, you know someone who has been diagnosed with breast cancer at some point. According to the American Cancer Society, breast cancer is one of the two most common cancers found in women in the United States, with 1 in every 8 women being diagnosed with the disease. I was that 1 of 8 just 13 years ago.
My story as a breast cancer survivor
I was diagnosed in the month of October back in 2007. At the time my daughter, Natalie, was only 8 years old and this was all happening very quickly. But, I knew nothing mattered more than making really good decisions that would help ensure a great outcome.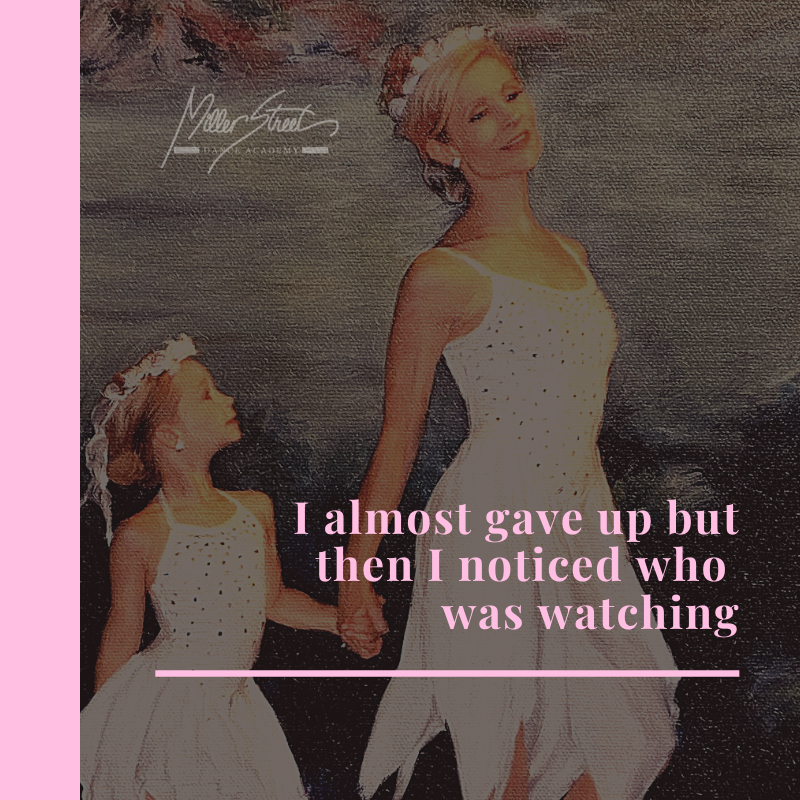 After spending the month of September at numerous appointments and biopsies, I was worried. I found the initial cancer site myself – there were 4 when it was all said and done.
Preparing for treatment
The horrible call came on October 9th, a date I will never forget. My first reaction was to leave town, take care of it, and return to business as usual. That just never works out, so I decided to use this as a chance to preach early detection and make the Miller Street world aware of how important that is.
As I prepared for my bi-lateral mastectomy (removal of both breasts) I had to keep all my little dance people from being afraid and making it as positive as possible. Communication and transparency with families at the dance studio was a big part of this effort. With brows up and a big smile, it worked!
Life after treatment
On October 30th, I was cancer-free after a very long surgery. I have never been so excited and I knew then how it felt to win the lottery! As I prayed hard for this moment to become reality, I promised God that I would shout early detection from every rooftop and help as many people as possible. And since my diagnosis and treatment, that is exactly what I have done!
As I celebrate my 13th year of good health, I have been blessed to meet and encourage many people around the nation. Not everyone I met along the way was as lucky as I was. Nothing is more painful than watching a child suffer the loss of their mother to this unfortunately common disease.
What Breast Cancer Awareness Month means to me
My wish in 2007 was to watch my daughter grow up and my beautiful sister, Alyson, start her family. Natalie is now a junior at Alabama and Alyson has a beautiful two-year-old daughter – Bridgette Michelle. Life is good and we can ensure more happy stories with early detection!
How can you help me spread the word?
With October being Breast Cancer Awareness month, I encourage you to think of my story. Anyone of us can be that 1 out of 8. Make that appointment for a mammogram and I also challenge you to call, email, or drop a handwritten note in the mail to five women you love. Challenge them to do it too. I promise you that someone reading this will save a life if we all do this.
How Miller Street Dance Academy has helped me make an impact
Every October, more than any other month, I can't help but reflect on the work the Miller Street families have done for the cancer effort.
Dancers Against Cancer
Dancers Against Cancer (DAC) is an organization that gifts money to dancers, dance teachers, choreographers, and dance moms/dads who are battling all types of cancer. The money gifted can be used for anything that the patient needs – chemo, food, power bills. DAC doesn't ask, they just provide.
At Miller Street Dance Academy, a lot of our fundraising efforts benefit Dancers Against Cancer.
Baubles and Bowties Gala
One of the many annual events we host is the Baubles and Bowties gala. Complete with a plated dinner, this fun event also includes a lot of dancing (of course), alive and silent auction, fun photo ops, and more!
This event was held in its inaugural year at the Ballantyne clubhouse in 2016 and raised around $25,000. In the 2nd year, we moved to a bigger venue and raised just under $70,000. In the 3rd year, we brought in over $95,000. And in 2019, our total amount raised almost broke $100,000. What an amazing event and for such a great cause! As the restrictions from COVID-19 lift, we look forward to the next gala!
Unfortunately, many of us are too familiar with knowing someone who has been diagnosed with cancer. It's far more common than we would like it to be. But, you can make a difference. Every dollar counts when you are contributing to an amazing organization like Dancers Against Cancer!