2022 Recital
** Times and dates are subject to change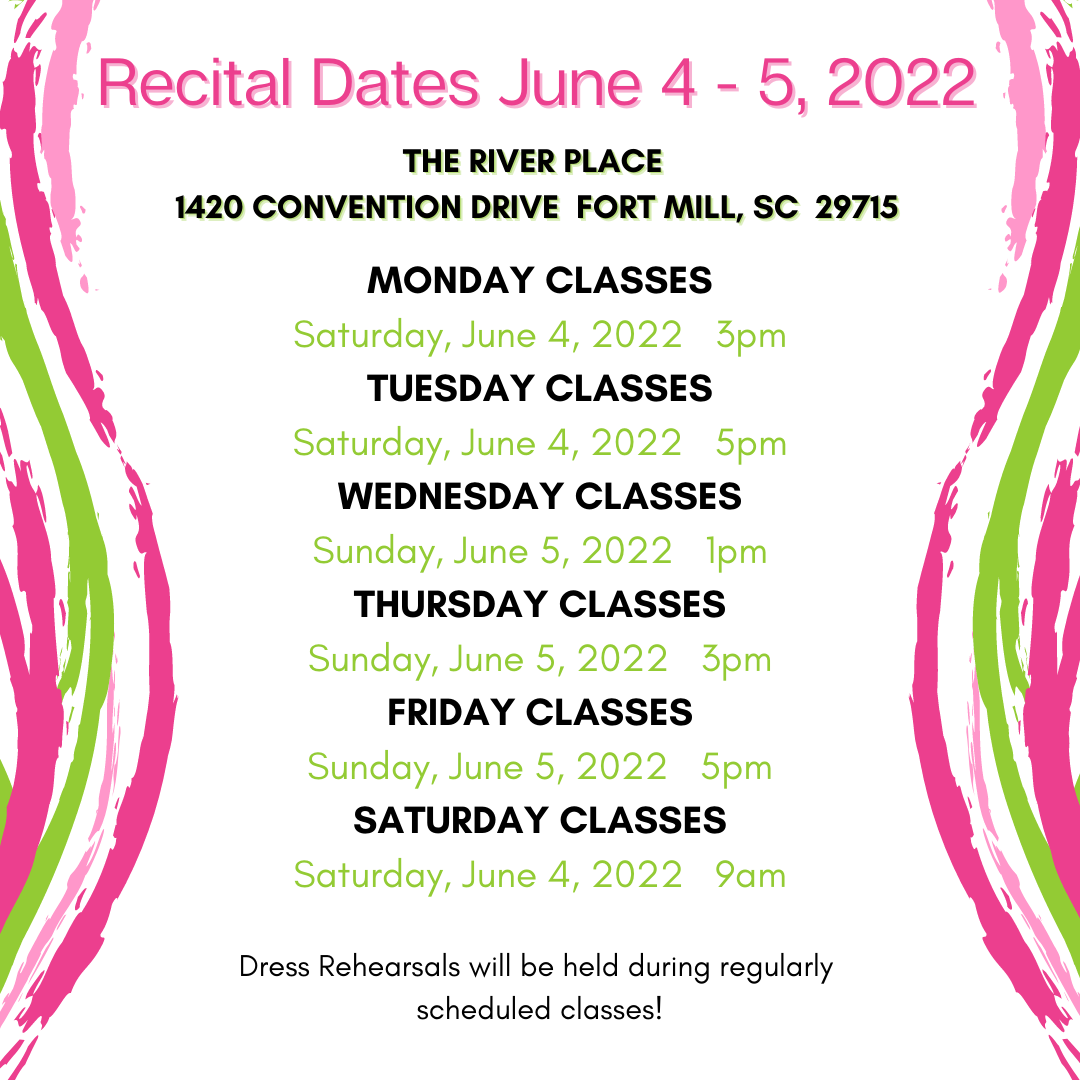 Program Book Ad Information
Does my child need a costume to participate in the recital?
Yes! Please review the following important details about recital costumes.
Costume Fees: Costume amounts are approximate and subject to change. Changes in a student's schedule can result in a change of costume and costume fees. Costume amount includes costume, tights, and tax.
Combo classes will perform both tap and ballet numbers in the recital but will have only one costume. The exception is the 2.5-3.5 combo which will perform only a ballet number.
Students enrolled in multiple levels of ballet classes may have more than one recital costume. Therefore, more than one costume fee may be applied to the account.
Mommy & Me, Pre-Pointe, and Tumbling classes do not participate in the recital and will not have a costume charge.
Male dancers in co-ed classes will not have a costume ordered or billed. The studio will discuss with the dancer's parent what attire is to be worn for performance.
All other classes (including Acro) will have one costume per class. After the class drop/add period ends (Click here for Important Dates), dancers who wish to change classes must purchase an additional costume. Class change requests may need prior teacher approval.
Payment Due Date: Costumes are to be paid in full by October 31. A late fee will be applied after this date (Click here for Important Dates). Deposits toward costume balances may be paid at any time prior to the due date.
E-payment Accounts: Fees for your dancer's recital costumes will be charged to the card or bank account you have on file unless you have set up a different payment arrangement with the office manager. Costume fees will be drafted mid-October.
Costume Hand Out: Dancers will receive their costume(s) during our Spring Parent Observation Week (Click here for Important studio Dates). This week is a great opportunity to see your dancer in their costume for the first time. Don't forget to bring your camera! Accounts must be up-to-date and in good standing prior to receiving your dancer's costume.
Refunds: Starting November 1, costumes are non-refundable and non-transferable. A student that withdraws from a class after purchasing a costume may pick up the costume mid-June (Click here for Important Studio Dates). Costumes left after this designated pick-up timeframe will be donated.
Late Class Changes: To ensure proper costume orders, class changes will not be allowed after mid-November (Click here for Important Studio Dates). Dancers wishing to change classes after the Class Drop/Add period ends (but before the New Student Enrollment ends – early January) must have the instructor's permission and must purchase an additional costume. Private lessons may be required for late registrants; this will be at the teacher's discretion.
How long are the recital performances?
Each recital session will be approximately forty-five minutes.
Will my dancer get to sit in the audience once her/his dance is finished?
For general safety reasons, we insist that all performers remain backstage during their recital session. We have plenty of staff backstage to keep your dancers entertained while they wait for their dance.
What if my dancer is in more than one dance?
You will meet your dancer backstage to change into their next costume.
Does my dancer have to wear makeup to the recital?
We do recommend some makeup for the recital so that the stage lighting does not make dancers appear "washed out."
Will there be someone taking pictures of my dancer during the recital?
We do not hire a professional photographer to take pictures during the recitals. You are welcome to take pictures of your dancer(s) from your seat only. Flash photography is not permitted during performances. Videotaping is
not
during recitals.
Will there be a DVD to purchase?
Yes. Order forms will be included in the packet you will receive during Spring Parent Observation Week.
Does my dancer get a trophy?
Yes! All dancers that participate in the recital receive a trophy! Trophies will be passed out as dancers are checked out at recital. Limit one trophy per dancer.
What are the costume rates?
All ages Combo classes

$101.41

All Teen classes

$112.09

3-6 Jazz & Tumble/5-6 year old

Jazz Hip Hop

$101.41

Pre-Ballet

$114.22

All Acro Classes

$108.89

Ballet I

$114.22

Boys in Co-ed classes
Self-purchase

Ballet classes II/III

$114.22

All 6-8 year old classes

$109.95

Ballet classes II/IV, IV, Wed V

(Pointe uses this same costume)

$114.22

All 7-8 year old classes and

9-10 year old classes

$109.95

Friday Ballet IV

Black Leotard $34.16 &

Ballet Skirt 22.95

All 9-12 & 11-12 year old classes

$112.09

Pre- Pointe

No recital